Sewgil Saaduldeen Anwer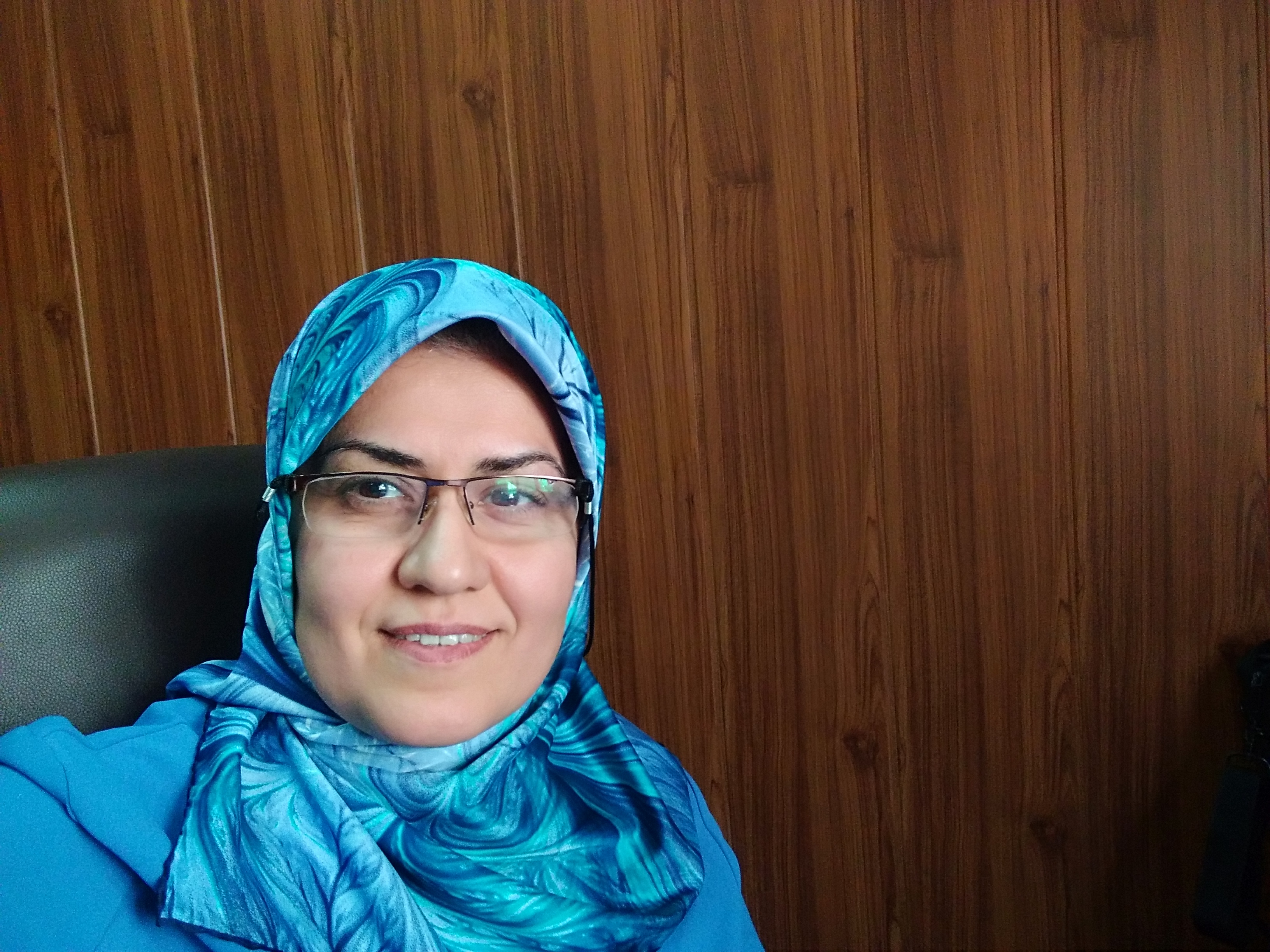 Professor
College of Health Sciences
Department of Clinical Biochemistry
This email address is being protected from spambots. You need JavaScript enabled to view it.
Dr. Sewgil Sadduldeen Anwer is assistant prof. and head of Clinical Biochemistry department. College of Health Sciences. Dr. Sewgil has received her B.Sc. Degree in Biology from the University of Salahaddin in 1995-1996, M.Sc. Degree in microbial biotechnology from Ankara University In 2000, and PhD. Degree in the same branch in Ankara University in 2005. Worked as a lab- assistant at Sallahaldin University- College of Dentistry and ten years as lecturer in Biology department at the University of Koya.
ORCID ID is
https://orcid.org/0000-0002-0967-8382
https://www.linkedin.com/in/sewgil-anwer-2a77b7b2/I have more than 26 publication and my research interest is focused on
algal cultivation, microbial Bioremediation and Biosorption, Microbial Bioplastic production, Removal of Dye and Heavy metals from wastewater, antimicrobial activity, and Biodiesel production.
Google scholar
- Supervisor of PhD student ( Using of microalgae isolated from koya city in waste water treatment system and biodiesel production)
- Detection of kids milk using Methylen Blue reduction test
- Neonatal jaundice and early breast feeding
- detection of milk powder milk quality
- detection of H. pylori
1- Production of poly beta hydroxy butirate( PHB) by bacillus bacteria.Biyoteknoloji kukem Dergisi 67-76, 2001. Turkey.
2- Bioaccumulation of reactive dyes by thermophilic cyanobacteria. Process biochemistry. 2006-ISSN/ISBN-4.
3- Simultanous Bioaccuulation of reactive dyes and chromium (VI) by using thermophil Phormidium sp. Enzyme and Microbial Biotechnology 41(1) 2007 : 175-180.Doi 10.1.16.
4- Effect of ph,temperature and light intensity to growth rate of Chroocococcus pallidus . journal of Koya University, 15,2010.
5- Decolorization of Dyes by Immobilizedthermophilic Synechococcus sp. Jurnal of Koya University,16.2010.
6-Removal of Diazo dyes by Lactobacillus isolates journal of Koya University.17,2010.
7- Removal of different dyes by Pseudomonas Fluoroscens journal life Science USA 2013 V. 1PP.51-56.
8- Antibacterial activity of Lyngbya and Chroococcus sp. isolated from Koya ( Hizoop River) 2014 . Journal of Life Science Doi-10.17265/1934-7391/2014.12.001.
9- Biosorption of Dyes by Cyanobacteria isolated from kani-bee 20-21April.2011.
10-Determination of major and minor elements in Kids milk using XRF technique.J.of biological,chemical and physical Science.2017,7(2)593-598.
11- Biosorption of Direct Blue 9 using bakers yeast Sccharomyces cerevisea.ZANCO journal of Pure and Applied Science (2016), 28(6) 170-175.
12-Isolation and identification of Fungi from fast food restaurants in Langa Bazar. International journal of environment,Agriculture and biotechnology 2017,2(4) dx.doi.org/ 10.22161/2.2.10
13- Biosorption of mercury from waste water using isolted aspergillus sp modified 1,10- phenanthroline:hill isotherm model, Science journal of university of Zakho. Dec. 2017- 5(4) 288-295.
14-Detection of Kids milk Quality using Methylene Blue Reduction test. International Journal of Environment , Agriculture and Biotechnology (IJEAB).2018.4(3):1450-1456.
15-Synthesis, Characterization and Evaluation of Phormidium Sp. Based Biochar and its Activation Efficacy for Removal of Safranin-O from the Aquatic System.Indian Journal of Natural Sciences.9(50)2018.( clarivate journal)
16- Biosorption of Chromium (IV) using baker's yeast Saccharomyces cereveciae.INTERNATIONAL HEALTH SCIENCES CONFERENCE. 2018 Proceeding book
17- Biosynthesis of Silver Nanoparticles Extracted Using Proteus.Journal of engineering sciences. 2019;6(2).
18- BIOSORPTION OF CADMIUM AND LEAD USING MICROALGAE
SPIRULINA SP. ISOLATED FROM KOYA CITY (Iraq).APPLIED ECOLOGY AND ENVIRONMENTAL RESEARCH .2020. 18(2):2657-2668.
19- THE COMMON BACTERIAL CAUSES OF VAGINAL INFECTION IN ERBIL CITY.World Journal of Pharmaceutical and Life Sciences.wjpls, 2019, Vol. 5, Issue 6, 35-44.
20-BIODIESEL PRODUCTION FROM SCENEDESMUS ECORNIS BY
TRANSESTERIFICATION PROCESSزPlant Archives Vol. 20, Supplement 2, 2020 pp. 827-831
21-BIOSYNTHESIS OF MAGNETITE-NANOPARTICLES USING MICROALGAE
(SPIRULINA SP. AND SPIROGYRA SP.).Plant Archives Vol. 20, Supplement 2, 2020 pp. 1023-1027.
22- Screening for Helicobacter PyloriIgG among Undergraduate Student of Hawler Medical University/ College of Health Sciences. A Khaleel, S.Zaki , A. Mohammed, S.S. Anwer. Journal of Kirkuk Medical College.Vol. 8, No. 1, 2020.
23- Prevalence and Detection of Helicobacter Pylori among Patients in Rizgary Hospital Using Stool Antigen Test- Erbil City. Hangaw O.Haji, Sewgil. S.Anwer, Sahar M.Zaki, Basoz B. Mustafa, Asma A. Abdulla, Gashbin J. Hassan.Journal of Kirkuk Medical College.Vol. 8, No. 1, 2020.
24- UPTAKE OF DIFFERENT DYES BY TWO NEW STRAINS OF
MICROALGAL DRY BIOMASS.P. M. Abdulkareem, S. S. Anwer. Iraqi Journal of Agricultural Sciences –2021:52(1):48-62.
25-Detection of Vancomycin Resistant Gene in Staphylococcus aureus Isolated From Different Clinical Samples in Erbil City. JOURNAL OF UNIVERSITY OF BABYLON For Pure and Applied Sciences (JUBPAS.Vol.29; No.3. October-December | 2021. Lanja Jalal Mahmood, Sewgil Saaduldeen Anwer.
26-Phenolic compound and fatty acid properties of some
microalgae species isolated from Erbil City. S. S. Anwera, K. H. Sdiqc, K. R. Muhammada,and L. M. Aladdin. Brazilian Journal of Biology, 2022, vol. 82, e256927 | https://doi.org/10.1590/1519-6984.256927.
27-Limnological Study in Upstream and Downstream
Degala Basin Water Body within Erbil City-Iraq.K.H Sdiq,L.M. Aladdin,B.A. Othman. S.S. Anwer. Kirkuk Univ. J. Sci. Stud. Vol. 17, Iss. 1, p 16-29, 2022
28-Sewgil Saaduldeen Anwer, Direct analysis of algae for determination of major and minor elements using energy dispersive x-ray fluorescence (EDXRF), Kuwait Journal of Science, Volume 50, Issue 4,2023,
Pages 697-702,ISSN 2307-4108,https://doi.org/10.1016/j.kjs.2023.04.012.
29-
S.Anwer. Simultaneous green synthesis of MagnetiteNanoparticles MNPs using microalgae Spirulina sp. for antibacterial activity ( 2023). Emirates Journal of Food and Agriculture. 2023. 35(4): 280-286doi: 10.9755/ejfa.2023.v35.i4.3033http://www.ejfa.me.
30- Hayman K. Mustafa, Sewgil Saadudeen Anwer, Taha J. Zrary,
Influence of pH, agitation speed, and temperature on growth of fungi isolated from Koya, Iraq, Kuwait Journal of Science, Volume 50, Issue 4,
2023,Pages 657-664,ISSN 2307-4108,https://doi.org/10.1016/j.kjs.2023.02.036.
31-
Layla Mohamed Aladdin · Kwestan Rafat Muhammad3· Sewgil Sadduldeen Anwer. Kwestan Hassan Sdiq. Extraction and comparative study of seasonal antioxidant activity using Nostoc species isolated from Gali Ali Bag, Erbil. Brazilian Journal of Microbiology. https://doi.org/10.1007/s42770-023-01030-1
PhD. Degree: Ankara University- Graduate Scool of Natural and applied Science - Faculty of Science- Biotechnology( Microbial Biothnology)
( Use of thermophilic Cyanobacteria isolated from hot spring in waste water treatment system).
MSc. Degree: Ankara University-Graduate School of Natural and Applied Science- Faculty of Science- Biotechnology( microbial biotechnology)
BSc. Degree: Salahaddin University- College of Education- Biology Dep.
Member in Promotion committee
Member as editorial board in Zanko journal of medical science
Supervisor of PhD student
Member of biology association
Member in book committee