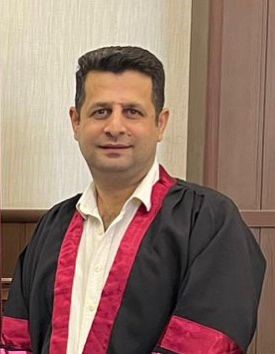 Dr. Dana Ameen
B.Sc. Pharmacy, MSc., PhD. Pharmaceutical Chemistry
Head of Pharmaceutical Chemistry Department
This email address is being protected from spambots. You need JavaScript enabled to view it.
 Pharmaceutical or Medicinal Chemistry is a multifaceted discipline that encompasses analytical chemistry, synthetic organic chemistry, natural products chemistry and computational methods, all of which are aimed at the discovery and development of new therapeutic agents. Medicinal chemistry is by nature an interdisciplinary science, and practitioners have a strong background in organic chemistry, coupled with a broad understanding of biological concepts related to cellular drug targets. Scientists in the field are well positioned to work as part of an interdisciplinary team that uses chemical structural principles to design effective drugs and diagnostic agents.
Graduate coursework within the department includes broad exposure to various areas within the pharmaceutical sciences (core curriculum) as well as also intensive specialization within the area of students' research interests. Thus, graduates from the Pharmacy are well-rounded in all facets of the discipline and capable specialists in the area of their research.
 Vision
To achieve national recognition as a top-ranked program in Pharmaceutical Sciences. 
MISSION
We are a multidisciplinary department providing expertise in the areas of drug discovery, development and evaluation. We are dedicated to pursuing scholarship that creates new knowledge, to learning that disseminates and preserves knowledge, and to engagement that exchanges knowledge. Our mission is to:
Provide an integrated, multidisciplinary education in the Pharmacy school to students enrolled in our graduate and doctor of pharmacy programs;
Maintain innovative research programs in Pharmacy which contribute to our understanding of the design, synthesis, delivery, disposition, action and safety of biologically active compounds;
Serve as a resource of expertise to the university and the community at large.
OBJECTIVES
The Pharmacy will champion and be led by values and commitments that define its character, principles, standards, and expectations of its members. They include to:
Foster appreciation of the critical and unique contributions made to the professional and graduate pharmacy programs.
Enhance the scientific and professional communities within and beyond the university.
Strive for excellence, through assessment and iterative quality improvement.
Maintain teaching and learning at the cutting edge of knowledge in our specializations.
Champion collaboration and interdisciplinary learning and research.
Create and sustain diversity and inclusion for faculty, students and staff and an environment that welcomes and values those of all social identities and backgrounds.
Contribute to an atmosphere that conveys respect and supports outstanding communication.
Pledge to act with honesty and integrity, and adhere to the highest standards of professional behavior.