Lazeeza Sattar Omer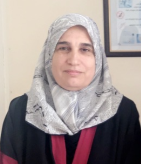 Assistant Professor
College of Pharmacy
Department of Pharmaceutical Chemistry and Pharmacognosy
This email address is being protected from spambots. You need JavaScript enabled to view it.
Lazeeza S. Omer has MSc & PhD degree in Analytical Chemistry from College of science University of Bagdad. She is an assistant professor of Analytical Chemistry at Department of Pharmaceutical chemistry, Hawler Medical University, Erbil, Iraq. She teaches different courses including General chemistry, Analytical chemistry, Inorganic Pharmaceutical chemistry, Instrumentation, Advance Separation methods ,Advance Spectrophotometric methods, and Advance Electro Analytical methods .She has 5 publications. Her current research work is mainly related to Chemical Analysis and Spectrophotometric methods of analysis.
1-Correlation between the chemical components of gallstones and sera of stone formers,K Mawlood, LS Omer, SA Garota,Gomal Journal of Medical Sciences 7 (1) 2009.
2-Quantitative analysis in (33) traces metals in human gallstones by ICP-AES,LS Omer,International Journal of Chemistry 3 (2), 105, 2011.
3-Predicting the chemical composition of Gallstones by FTIR spectroscopy,
KM SHAREEF, LS OMER, SA GAROTA,Biomedical & Pharmacology Journal 1 (1), 25-30 , 2008.
4-Synthesis of Several New Copoly [N – (allyl) – Substituted Imides – Methyl Acrylate] and Curing the Unsaturated Resins by Free Radical Polymerization,IOA Tamimi, AH Muna I, LS Omer,Iraqi Journal of Science 56 (1A), 53-61, 2015.
5-Extraction-Spectrophotometric Determination of Lidocaine Hydrochloride in Pharmaceuticals,LS Omer, RJ Ali,International journal of chemistry 9 (4), 49-61 , 2017.
6-Assay of Orphenadrine Citrate in Pharmaceuticals via Extraction-Spectrophotometric Method:Lazeeza Sattar Omer, Rasul Jameel Ali
Iraqi Journal of Science, 2018, Vol. 59, No.3A, pp: 1152-1161
DOI:10.24996/ijs.2018.59.3A.1
7- Spectrophotometric Estimation of Losartan Potassium with Methylene Blue by Ion-Pair Extraction Method
Iraqi Journal of Science, 2020, Vol. 61, No. 12, pp: 3141-3153
DOI: 10.24996/ijs.2020.61.12.1
8-ANTIOXIDANT ACTIVITY OF POMEGRANATE
Iraqi Journal of Agricultural Sciences –2021:52(1):196-203
9-
H-point Standard Addition Method for the Simultaneous Spectrophotometric Determination of Captopril and Hydrochlorothiazide in Pharmaceutical Formulations

__________________________________




1996 PhD. Analytical Chemistry,College of Science University of Bagdad,Bagdad,Iraq
Thesis:A novel extraction gas chromatographic method for extraction and determination of palladium.
1989 MSc Analytical Chemistry,College of Science University of Bagdad,Bagdad,Iraq.
Thesis:Separation studies of organophosphorus compounds by gas liquid chromatography and its application as gasoline additives.
1981 Bsc Chemistry,College of Science University of Bagdad,Bagdad,Iraq.
Teaching
General Chem, Analytical Chemistry, Adv.Analytical Chemistry, Liquid Chromatography - HPLC, Electroanalytical methods, and Separation methods.
Projects
Development and validation of spectrophotometric determination of drug, and Chemical Analysis.