Suha Saeed Shangula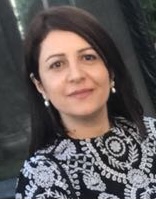 Lecturer
College of Pharmacy
Department of Clinical Pharmacy
This email address is being protected from spambots. You need JavaScript enabled to view it.
Suha S Shangula has MSc degree in Clincal Pharmacy, from Hawler Medical University, Erbil, Iraq and a PhD in Clinical Pharmacy from the University of Manchester, Manchester, UK. She teaches different topics of therapeutics for Pharmacy studentssuch as respiratory, infectious and cardiovascular diseases. In addition to therapeutics, she teaches different topics of Patients assessments and Pharmacy practice.
Her recent reaseaches were about the ability of differents chemicals and ROS to induce DNA damage and the effect of PON1 in modulating such damage, and the change in lipid profile and the level of PON1 activity in patients with lung cancer.
She was co-supervisor for MSc student from NEAR EAST UNIVERSITY
, the research topic was:Adherence, satisfaction and diabetic self-care activity among diabetic patient in Erbil, Iraq.
1) L--N-methylamino-L-alanine (BMAA) nitrosation generates a cytotoxic DNA damaging alkylating agent: An unexplored mechanism for neurodegenerative disease
Neurotoxicology. 2017 Mar;59:105-109. doi: 10.1016/j.neuro.2017.01.007. Epub 2017 Feb 3.
2) Paraoxonase-1 substrates can directly damage DNA 'Abstract'
Mutagenesis, Volume 31, Issue 2, 1 March 2016, Pages e1–e9,
3)PON1 increases cellular DNA damage by lactone substrates
May 2017 PhD in Biology, Medicine and Health scince, University of Manchester, Manchester, UK.
Thesis; the effect of paraoxonase -1 (PON1) on lactones and ROS induced DNA damage
Jan 2007 MSc in Clinical Pharmacy, Hawler Medical University, Erbil, Iraq.
Thesis: the effect of atenolol and hydrochlorothiazide with amiloride on serum lipid profile and malondialdehyde in hypertensive patients.
Jul 2002 BSc degree in Pharmacy, Salahaddin University, Erbil, Iraq.
Teaching
Therapeutics, Patient assessment and Pharmacy practice for pharmacy students.
Advanced therapeutic, clinical Pharmacokinetics and Case study for MSc students.