Sozan Muhsin Qarani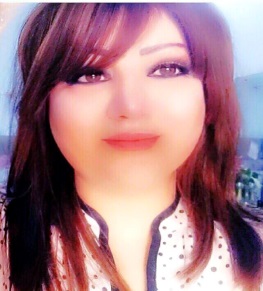 Assistant Professor
College of Dentistry
Department of Basic Sciences
This email address is being protected from spambots. You need JavaScript enabled to view it.
Dr. Sozan Muhsin Qarani, Assistant Professor of Microbiology at the College of Dentistry, Hawler Medical University, teaching Biology and Microbiology. She was the head of Basic Sciences Department. Dr. Sozan is a friendly, positive, and enthusiastic and a very reliable person. She usually enjoyed team working, but also worked very well independently and could be trusted to act responsibly under pressure.
I was working as researcher in Centre of Biomolecular Science/ Nottingham/UK 20011-2016. My main areas of expertise are in molecular microbiology; biotechnology; cellular microbiology, and bacterial vaccines.
1. Bacteria isolated from root canal infection; Zanco J. Med. Sci., Vol. 12- (Special issue), 2008
Ali F. Alzubaidee* Suzan M. Qarani** Aso A. Muhamed***
2. In vitro antimicrobial activity of Miswak extracts against some oral pathogenic isolates; Zanco J. Med. Sci., Vol. 14, No. (1), 2010
Received in: 18/11/2009 Accepted in: 14/1/2010
Abdul–Ghany Omer * Sozan Muhsin Qarani ** Amera Kamal Khalil ***
3. Deciphering the complex three-way int interaction between the non-integrin laminin receptor, galectin-3 and Neisseria meningitidis; Open Biol. 2014 Oct;4(10). pii: 140053. doi: 10.1098/rsob.140053.
Alqahtani F1, Mahdavi J2, Wheldon LM1, Vassey M1, Pirinccioglu N3, Royer PJ1, Qarani SM1, Morroll S1, Stoof J1, Holliday ND1, Teo SY1, Oldfield NJ1, Wooldridge KG4, Ala'Aldeen DA1.
4. Incidence and Antibiotic Sensitivity of Klebsiella pneumonia Isolated from
Urinary Tract Infection Patients in Zakho Emergency Hospital/Iraq
Reem Fouad Polse1*, Sozan Muhsin Qarani2, Mahde Saleh Assafi3, Nisreen Jawad Sabaly4,Fawaz F Ali
Journal of Education and Science (ISSN 1812-125X), Vol: 29, No: 3, 2020 (257-268)
Academic skills: Talent for developing well-balanced lesson plans that teach the fundamentals, enhance students' academic skills and sufficiently prepare them for the state assessment and the working world. Skilled at classroom management and identifying and adapting to different student learning styles.
I am experienced and competent in research design and the collection, analysis and reporting of primary and secondary data sources. During my research I have become competent with:
DNA Cloning.
Plasmid DNA mini-/midi-/maxi- extraction.
RNA extraction.
Gel electrophoresis and gel extraction.
Purification of PCR and Gel-extracted DNA products.
Quantification of DNA and protein.
Inverse PCR mutagenesis.
Generation of mutation in human gen: deletion mutations & Site-directed mutagenesis.
Transformation of DNA in bacterial cells.
Transfection of DNA in mammalian cells.
Mammalian cell culture
expression of the wild type and mutated human protein in a bacterial host system.
expression of the wild type and mutated human protein in mammalian cells.
Enzyme-linked immunosorbant assay (ELISA).
Purification of human protein under nature & denatured conditions.
Immunoblot analysis.
Flow cytometry.
Cell imaging including immunocytochemistry and fluorescence microscopy including confocal microscopy.