Izzat Bihnam Muttosh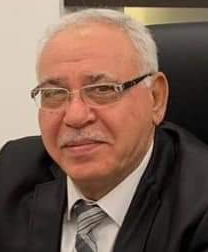 Assistant Professor
College of Medicine
Department of Surgery
This email address is being protected from spambots. You need JavaScript enabled to view it.
Born in Mosul City of iraq on oct 1954 in a family of 10 sublings studied and gratuated at the same city, did his first year residency at Duhok in Kurdistan region of Iraq,After Millitary service and one year at rural areas service (Alba-aage city as hospital manager),he joined the Arrab board study at Mosul Centre ,got his diploma 1990 and gratuated of CABS at 1991. worked again in Duhok as a specialist general surgeon till 1993, returned back to mosul , where he volunteered to teach 4th and 6th years medical students in addition to his duties, for more than seven years.
At 2002 as cheif of surgical departement at Al-Salam General Hospital. till 2006 after being threatened, shifted to Erbil where he continued at HMU/College of Medicine.
Married to Dr. Rawiya Azzouz ( Vet. Doctore), with two daughters and one son.
Assistant Proffesor at HMU/Medical College.
Consultant General Surgeon at Central Emergency Hospital.
1979 MBChB ( Univesity of Mosul/College of Medicine).
1990 High Diploma in General Surgery ( Almostansria University).
1991 CABS ( Arab Board Certificate in Surgery).
1999 Laparoscopic Surgery Certificate / Mosul.
Membre of Iraqi Doctors Syndicate.
Membre of IIMA (Iraqi International Medical Association).
Membre of Kurdistan Doctors Sindicate.
Membre of Kurdistan Association for General Surg
Membre of Orthodox Church Board in Mosul and Kurdistan.