Salam Naser Bejung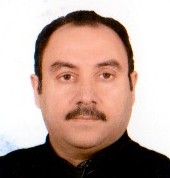 Assistant Professor
College of Medicine
Department of Medicine
This email address is being protected from spambots. You need JavaScript enabled to view it.
Dr. Salam Naser Zangana
Consultant physician and internist
Graduated from Kufa University -College of Medicine in 1990
Specialist in internal medicine (Higher Diploma & Board certificate) in 2000
Ass. Prof. of internal medicine- Hawler Medical University since 2006
Member of Kurdistan cardiothoracic society (KCTS) since 2010
Consultant physician ( 2017)
Researcher in internal medicine & cardiovascular diseases
Professional Memberships:
Member of Kurdistan cardiothoracic society (KCTS), 2011 to current
Member of American Thoracic Society (ATS), 2014-2015
Scientific Memberships:
Member of the Examination Committee at the college of medicine, 2007
Member of the Quality assurance committee at the college of medicine, 2014
Member of the Curriculum development committee at the college of medicine since 2017.
Member of
the Scientific Committee for Promotions
at the college of medicine since 2017.
1-Role of Cardiac Troponin I Level in Predicting in Hospital Outcomes in Patients with ST-segment Elevation Myocardial Infarction in Erbil-Iraq. Salam Naser Zangana , Abdul kareem A AL-Othman and Namir G AL-Tawil . Diyala Journal of Medicine Vol. 13, Issue1, October 2017.
2-The Role of Exercise Electrocardiographic Test in Determining the Extent of Coronary Artery Disease in Comparison to Coronary Angiography in Erbil-Iraq. Salam Naser Zangana, Omer Kadir surchi. Journal of Medicine, Physiology and Biophysics Vol.26, 2016.
3-The Relation of Serum High-Sensitive C- reactive Protein to Serum Lipid Profile, Vitamin D and other Variables in a Group of Hypertensive Patients in Erbil-Iraq .Salam Naser Zangana. International Journal of Science and Research (IJSR) Volume 5 Issue 9, September 2016. Paper ID: ART20161472 DOI: 10.21275/ART20161472
4-EFFECTS OF BODY MASS INDEX ON LEFT VENTRICULAR FUNCTION AND STRUCTURE AMONG A SAMPLE OF APPARENTLY HEALTHY ADULTS IN ERBIL CITY-IRAQ. Salam Naser Zangana,Abdulsatar Kamel Faeq, Dashty Abbas Al-Bustani. International Journal of Multidisciplinary Research Review (IJMDRR), Vol.1, Issue - 18, Aug-2016. Page – 147.
5-The impact of gender on serum uric acid levels in hypertensive patients with left ventricular hypertrophy in Erbil city-Iraq .Salam Naser Zangana. International Journal of Medical and Health Research(IJMHR) Volume 2; Issue 8; August 2016; Page No. 04-08.
6-25-hydroxyvitamin D and Parathyroid hormone levels and their associations with left ventricular hypertrophy in a sample of hypertensive patients in Erbil-Iraq. Salam Naser Zangana, Muhammad Sadradin Mahmood, Sherzad Ali Ismael. International Journal of Academic Research and Development (IJARD) Volume 1; Issue 8; August 2016; Page No. 32-36.
7.The frequency of hyperuricemia with left ventricular hypertrophy in patients with primary hypertension in Erbil city-Iraq. Salam Naser Zanagana, Mohammed Hasan Alwan, Salih A. Alaw. Tikrit Journal Of Pharmaceutical Sciences (TJOPS).Vol (12); No.(2): Dec.2017,pp61-71.
8.Correlation of elevated cardiac troponin T level with severity and in-hospital outcomes in patients with acute ischemic stroke. Salam Naser Zangana, Abdulkareem A. Al-Othman, Azad Anwar Hamad. Medical Journal of Babylon (Med J Babylon) 2018; 15:174-7. DOI: 10.4103/MJBL.MJBL_31_18.
9. The frequency of vitamin D deficiency in patients with left ventricular systolic dysfunction in Erbil-Iraq.SN Zangana, AA AL-Othman, MA Habeeb - Iraq Medical Journal, March 2019, Vol (3); No.(1).
https://scholar.google.com/citations?user=7c5AxrwAAAAJ&hl=en
Graduated from Kufa University -College of Medicine in 1990
Higher Diploma & Board certificate Internal Medicine in 2000
Teaching Activities and skills:
Served as a senior lecturer and then as an assistant professor in internal medicine at Hawler Medical University- College of Medicine-Department of medicine for the last 12 years.
Selected material relevant to each course of study and presented in an engaging fashion.
Maintained office hours to help students with questions and educational support.
Developed and implemented lesson plans that covered all required topics related to internal medicine
Designed course materials, including syllabi, writing assignments, and exams.
Created lecture presentations for both online and in-class environments.
Organized class events and activities to promote learning.
Worked with graduate students on classroom material and laboratory practicums.
Selected appropriate materials to support student learning needs.
Distributed course syllabus and answered student questions regarding standards, material, grading, and progression.
Integrated technology into classroom instruction for a well-rounded and modern approach.
Completed and submitted reports detailing course activities.
Tracked student assignments, attendance, and test scores.
Utilized innovative methods of instruction, including video, interactive class activities and discussions to present course material.
Managed classes of 2nd, 3rd, 4th and 6th-year students in a university environment.
Developed exams to properly gauge information retention and student performance.
Served on many college committees and acted as an active member.
Developed and delivered engaging lectures to undergraduate and graduate students.
Wrote course materials such as syllabi, homework assignments, and handouts.
Wrote, administered and graded midterm and final examinations.
Planned, evaluated and revised course content and course materials.
Supervised and evaluated students' laboratory work.
Guided students in using technology to support educational research.
Pointed students to relevant information about academic and personal support services available at the college.